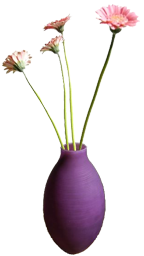 purple
blue
brown
green
flores
is
Dashboard
widget that provides an ambient monitor for your Apple Mail or
Gmail
status. It shows a flower for each new email in your account, up to four. In addition, it can filter for text in the sender or subject of your emails, allowing you to watch for email from that special someone. Support for four colors:
purple
blue
brown
and
green
(mouse over to see) allows you to put multiple vases on your desktop, distinguishing between different settings.
Apple Mail mode requires no configuration, it's automatically set to monitor your inbox. In Gmail mode, click on flores to go to your gmail account in your default web browser.
If you like flores, please consider making a donation to say "thank you."
Or, better yet, hire me.
flores is dedicated to the women I've loved.
find more widgets or explore stephan.com.
mail: stephan@stephan.com

locket
iChat. personalized
try it now.


flores
is distributed for free under the
Creative Commons Attribution-NonCommercial 2.0 license
.
The image is by
Michael Lewcio
, found on
flickr
under the same licensing terms.

Mac OS X 10.4 Tiger is required. If you're using Safari, click the download link. When the widget download is complete, show Dashboard, click the Plus sign to display the Widget Bar and click the widget's icon in the Widget Bar to open it. If you're using a browser other than Safari, click the download link. When the widget download is complete, unarchive it and place it in /Library/Widgets/ in your home folder. show Dashboard, click the Plus sign to display the Widget Bar and click the widget's icon in the Widget Bar to open it.
version history
6/21/05: flores 1.4 fixes google's change of RSS feed URL.
5/18/5: updated icon/default image to match four-flowers view, matching ottmar. I actually like it better the original way, but it looks funny when it drags. Minor change, no new version number.
5/6/5 @ 7pm: flores 1.3
adds new vase colors: purple remains, joined by brown, green, and blue
5/6/5 @ 2am: flores 1.2
new features include a massively updated interface and, most of all Apple Mail support.
5/4/5 @ 3pm: flores 1.1
bug fixes, a new user interface, a new sponsor, and several under the hood changes to improve stability.
5/1/5 @ 6pm: flores 1.0 released
first version. Completed in 24 hours, including learning JavaScript and CSS. Released precisely 48 hours after release of Tiger.
faq
email me with your questions!
q: How to I uninstall flores?
a: Apple's answer:
You cannot remove widgets from the Widget Bar or change their order.
No, but really, just remove it from ~/Library/Widgets/ . Dashboard is pretty bad about noticing the difference, but it'll figure it out, just scroll left and right.
news
5/7/5 @ 9am : 15,000 downloads, though a lot of that is probably upgrades. 111 downloads per hour. I hope my bandwidth holds out.
5/6/5 @ 5:30pm: Changing the vase color is working - there are four colors to choose from: classic purple, plus brown, green, and blue. Those were the only colors to come out decently. I'm ready to release that tonight, but I'm afraid I'm really driving the widget sites crazy with my overly frequent updates. I don't mean for it to be so quick, it's just that stuff turns out to be easier than I expect.
I also just worked out the resize error that someone complained about - where the image resizes quickly before flipping. In my opinion, it's Apple's bug, but I figured out how to work around it. geek detail: before doing a flip transition, you're supposed to freeze the image and make changes while it's frozen, so the user doesn't see it. So, you'd think you should do the resize then, right? Well, no. If the image gets smaller, you have to resize after the flip; if it gets bigger, you have to do it before freezing. Nonsense.
5/6/5 @ 2:20am: flores now supports Apple Mail. This was the single most requested feature and, quite frankly, I didn't really want to do it. I happen to like gmail, and I didn't want the interface to have too many options. Mail support was surprisingly easy to implement, requiring a single line AppleScript code, and the interface is cleaner than ever. Gmail users will be as disappointed as I am that Apple Mail is the default - but it's really much simpler this way. Using Apple Mail requires no configuration whatsoever, since you don't need to enter a password. Just fire it up and it works.
I am considering growl support for 1.3, but I'm not keen on the idea of a widget demanding attention when the dashboard is closed. Thinking about it.
Except coras to update in parallel sometime tomorrow.
5/5/5 @ 5pm: 10,000 downloads reached. Average since Sunday: 100 downloads per hour.