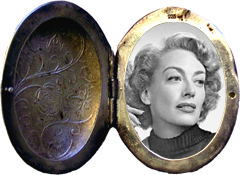 image:
Joan Crawford by Yousuf Karsh
.
Public domain from the Wiki commons.
Roll mouse over to try!
With my love's picture then my eye doth feast
And to the painted banquet bids my heart
- Sonnet XLVII
locket is a Dashboard widget that provides an ambient monitor for a single iChat user on your buddy list. When the person is available, the locket opens. Otherwise, it is closed. Clicking on the open locket will start a new IM chat.
locket
is sold in customized form for $10 at 120x88 resolution (recommended), or $15 for 240x175 resolution (above).
[why?]
Send me an image for the locket, along with the default AIM handle to use and the name of the person, and you will receive a customized locket via email.
[fine print]
The person's name will appear as the name of the widget. The custom widget requires no configuration, though you can change the IM handle and optionally allow the locket to open for "away" and "idle" status.
Make a locket with an image of a loved one, or use your own image and email it to your friends so they can contact you. Purchase of a custom locket includes a license to share your locket with as many friends as you wish. This would be a lovely gift for a person getting their first iChat account.
The demo download of
locket
is free to use with the default image provided, and there are several samples to choose from, using public domain portraits. A technologically savvy user
— although you don't have to have been around since before broadband became available —
will find
locket
easy to configure - I've even included a template in the .wdgt package to make it easier - but there are
no
instructions, there is
no
user support for customization, and you are obligated to make a donation if you do.
A generic ichat watch widget has been released to the public domain on my generic widgets page, with the same base functionality as locket
find more widgets or explore stephan.com.
mail: stephan@stephan.com
© 2005 stephan.com all rights reserved
samples
Samples are 120x88 size
Click the locket to download.
Mac OS X 10.4 Tiger is required. If you're using Safari, click the download link. When the widget download is complete, show Dashboard, click the Plus sign to display the Widget Bar and click the widget's icon in the Widget Bar to open it. If you're using a browser other than Safari, click the download link. When the widget download is complete, unarchive it and place it in /Library/Widgets/ in your home folder. show Dashboard, click the Plus sign to display the Widget Bar and click the widget's icon in the Widget Bar to open it.
version history
5/18/5: updated template file in the package - whoops, had the wrong one in there. No version change, redownload if you need the correct template.
5/15/5: locket released
first version.
faq
email me with your questions!
q: How do I uninstall locket?
a: Apple's answer:
You cannot remove widgets from the Widget Bar or change their order.
No, but really, just remove it from ~/Library/Widgets/ . Dashboard is pretty bad about noticing the difference, but it'll figure it out, just scroll left and right.
news
near term plans for locket
support for click to audio/video chat
support for additional IM clients and protocols (early candidates: Adium, AIM)
Why is

locket

being offered as a customized product?

The original design of locket called for using the image from the target user's address book or their IM icon. Aside from any technological difficulties in doing this, I discovered that the existing picture is not likely to fit very well into the locket frame. In addition, IM icons tend to be very low resolution, and might not be as attractive.

To do this, I would probably need to create a fairly complicated program to allow you to position the image, perhaps allowing you to drag in a new image and that would be more work for me and you. A LOT more work for me - perhaps 1000 times the amount of work it takes for me to just go ahead and photoshop it for you. If I knew I could sell 1000 copies, it would be worth it, but this way would still result in a simpler, more robust widget.

Enterprising programmers are encouraged to use the public domain version of this program, with their own locket image, to make an automated version.

I'll use my best judgement to make the finished product the best it can be, and while I'm at it, I customize the widget title and defaults to make the finished result even more unique. I will even throw in simple additional manipulations, such as sepia tone or text, if asked politely. Additional customizations, such as your own locket, are available: contact me for a quote.

This is an experiment in bespoke software.
The fine print
Allow two business days for delivery. Pricing, availability, and terms are subject to change without notice: this means that if I am swamped with orders, I will raise the price and/or increase the delivery time, so order now. I reserve the right to withdraw availability of this service at any time.
I reserve the right to reject any custom locket order for any reason or no reason. In particular, I may reject locket designs that are especially vulgar, hateful, libelous, or that you do not own the rights to the original image. If you are a celebrity, or friends of a celebrity, and you think I might recognize the picture, be prepared to convince me that the picture is of you, or that you own it. I would love to make an exception for political figures, as there is a historical precedent for considering them fair game, but there is still the issue of photo rights. Rejected orders will receive a full and prompt refund. rejection purely on a basis of vulgarity is unlikely; I am difficult to shock.
Your personal information is safe with me. I will never share your image or other details of your order with any other party without your express permission, except in the case of a court order or other similar circumstance. I will carbon copy the email of the completed widget to a reasonable number of people for your convenience.
Please be patient with me, I'm still working out the details. In return, I will be professional, friendly and prompt.